Tratamento da Perturbação Depressiva Major com Psicadélicos: Uma Potencial Aplicação Terapêutica para a Psilocibina?
Palavras-chave:
Alucinógenos/farmacológia, Perturbação Depressiva Major/tratamento farmacológico, Psilocibina/ farmacológia
Downloads
Não há dados estatísticos.
Referências
Depression and other common mental disorders: global health estimates. Geneva: World Health Organization; 2017. Licence: CC BY-NC-SA 3.0 IGO.
Nichols DE. Psychedelics. Pharmacological reviews. 2016;68(2):264-355.
Rucker JJ, Iliff J, Nutt DJ. Psychiatry & the psychedelic drugs. Past, present & future. Neuropharmacology. 2018;142:200-18.
Goldberg SB, Pace BT, Nicholas CR, Raison CL, Hutson PR. The experimental effects of psilocybin on symptoms of anxiety and depression: A meta-analysis. Psychiatry research. 2020;284:112749.
Davis AK, Barrett FS, May DG, Cosimano MP, Sepeda ND, Johnson MW, et al. Effects of psilocybin-assisted therapy on major depressive disorder: a randomized clinical trial. JAMA psychiatry. 2020.
Carhart-Harris R, Giribaldi B, Watts R, Baker-Jones M, Murphy-Beiner A, Murphy R, et al. Trial of Psilocybin versus Escitalopram for Depression. New England Journal of Medicine. 2021;384(15):1402-11.
Ly C, Greb AC, Cameron LP, Wong JM, Barragan EV, Wilson PC, et al. Psychedelics promote structural and functional neural plasticity. Cell reports. 2018;23(11):3170-82.
Carhart-Harris RL, Erritzoe D, Williams T, Stone JM, Reed LJ, Colasanti A, et al. Neural correlates of the psychedelic state as determined by fMRI studies with psilocybin. Proceedings of the National Academy of Sciences. 2012;109(6):2138-43.
Carhart-Harris RL, Roseman L, Bolstridge M, Demetriou L, Pannekoek JN, Wall MB, et al. Psilocybin for treatment-resistant depression: fMRI-measured brain mechanisms. Scientific reports. 2017;7(1):1-11.
Roseman L, Demetriou L, Wall MB, Nutt DJ, Carhart-Harris RL. Increased amygdala responses to emotional faces after psilocybin for treatment-resistant depression. Neuropharmacology. 2018;142:263-9.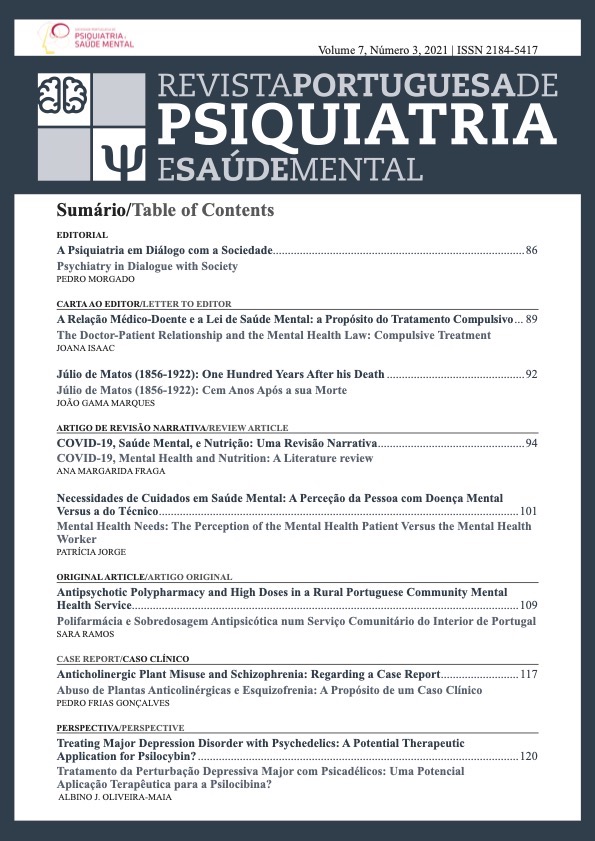 Downloads
Como Citar
Cotovio, G., Maia, A., Velosa, A., Seybert, C., & Oliveira-Maia, A. J. (2021). Tratamento da Perturbação Depressiva Major com Psicadélicos: Uma Potencial Aplicação Terapêutica para a Psilocibina?. Revista Portuguesa De Psiquiatria E Saúde Mental, 7(3), 120–122. https://doi.org/10.51338/rppsm.2021.v7.i3.241