Polifarmácia e Sobredosagem Antipsicótica num Serviço Comunitário do Interior de Portugal
Palavras-chave:
Antipsicóticos, Centros Comunitários de Saúde Mental, Prescrição Inadequada, Polimedicação
Resumo
Introdução: A polifarmácia e a sobredosagem antipsicóticas permanecem uma prática comum no tratamento de doenças mentais graves, embora as normas mais atuais não o recomendem.
Métodos: Procurou‑se identificar os padrões de prescrição antipsicótica num serviço comunitário com enquadramento rural, de forma a determinar a prevalência de polifarmácia e sobredosagem antipsicótica e fatores associados.
Resultados: Foram identificados 284 doentes. A polifármacia antipsicótica foi observada em 46,5% dos doentes e associava‑se a idades mais jovens, ser solteiro, internamentos psiquiátricos prévios e prescrição de anticolinérgicos. Por outro lado, a sobredosagem antipsicótica foi encontrada em 14,4% dos doentes e associava‑se a internamentos psiquiátricos prévios, estar medicado com um antipsicótico injetável de primeira geração de longa duração de ação e com um anticolinérgico. Observou‑se também que a sobredosagem e a polifármacia estavam associadas.
Conclusão: Apesar das recomendações internacionais, identificaram‑se prevalências de polifarmácia e sobredosagem antipsicótica de 46,5% e 14,4%, respetivamente. São necessários mais estudos para melhor caracterizar os padrões de prescrição antipsicótica em Portugal.
Downloads
Não há dados estatísticos.
Referências
Lally J, MacCabe JH. Antipsychotic medication in schizophrenia: a review. Br Med Bull. 2015;114:169‑79. doi: 10.1093/bmb/ldv017
Zhou X, Keitner GI, Qin B, et al. Atypical Antipsychotic Augmentation for Treatment‑Resistant Depression: A Systematic Review and Network Meta‑Analysis. Int J Neuropsychopharmacol. 2015;18:pyv060. doi: 10.1093/ijnp/pyv060
Correll CU, Citrome L, Haddad PM, Lauriello J, Olfson M, Calloway SM, et al. The Use of Long‑Acting Injectable Antipsychotics in Schizophrenia: Evaluating the Evidence. J Clin Psychiatry. 2016;77:1‑24. doi: 10.4088/JCP.15032su1
National Collaborating Centre for Mental Health (UK). Psychosis and Schizophrenia in Adults: Treatment and Management: Updated Edition 2014. London: National Institute for Health and Care Excellence; 2014.
Hasan A, Falkai P, Wobrock T, Lieberman J, Glenthoj B, Gattaz WF, et al; World Federation of Societies of Biological Psychiatry (WFSBP) Task Force on Treatment Guidelines for Schizophrenia. World Federation of Societies of Biological Psychiatry (WFSBP) Guidelines for Biological Treatment of Schizophrenia, part 1: update 2012 on the acute treatment of schizophrenia and the management of treatment resistance. World J Biol Psychiatry. 2012;13:318‑78. doi: 10.3109/15622975.2012.696143.
Correll CU, Gallego JA. Antipsychotic polypharmacy: a comprehensive evaluation of relevant correlates of a long‑standing clinical practice. Psychiatr Clin North Am. 2012;35:661‑81. doi: 10.1016/j.psc.2012.06.007
Paudel S, Dahal R, Mathias J, Arjyal S, Markovic L. Evaluation of Risk Factors for Antipsychotic Polypharmacy in Inpatient Psychiatry Units of a
Community Hospital: A Retrospective Analysis. Community Ment Health J. 2019;55:750‑4. doi: 10.1007/s10597‑019‑00381‑0
Campos Mendes J, Azeredo‑Lopes S, Cardoso G. Patterns of antipsychotics' prescription in Portuguese acute psychiatric wards: A cross‑sectional study. Psychiatry Res. 2016;246:142‑8. doi: 10.1016/j.psychres.2016.09.035
Latimer EA, Naidu A, Moodie EE, Clark RE, Malla AK, Tamblyn R, et al. Variation in long‑term antipsychotic polypharmacy and high‑dose prescribing across physicians and hospitals. Psychiatr Serv. 2014;65:1210‑7. doi: 10.1176/appi.ps.201300217
Mace S, Taylor D. Reducing the rates of prescribing high‑dose antipsychotics and polypharmacy on psychiatric inpatient and intensive care units: results of a 6‑year quality improvement programme. Therap Adv Psychopharmacol. 2014;5:4‑12. doi: 10.1177/2045125314558054
Armstrong KS, Temmingh H. Prevalence of and factors associated with antipsychotic polypharmacy in patients with serious mental illness: Findings from a cross‑sectional study in an upper‑middle‑income country. Braz J Psychiatry. 2017;39:293‑301. doi: 10.1590/1516‑4446‑2016‑2015
Gallego JA, Bonetti J, Zhang J, Kane JM, Correll CU. Prevalence and correlates of antipsychotic polypharmacy: a systematic review and meta‑regression of global and regional trends from the 1970s to 2009. Schizophr Res. 2012;138:18‑28. doi: 10.1016/j.schres.2012.03.018
Langan J, Shajahan P. Antipsychotic polypharmacy: review of mechanisms, mortality and management. Psychiatrist. 2010;34:58‑62. doi: 10.1192/pb.bp.108.024257
World Health Organization. ICD‑10 international statistical classification of diseases and related health problems : tenth revision. 2nd ed. Geneva: WHO; 2004.
Hertforshire Partnership, University NHS Foundation Trust. High Dose Antipsychotic Therapy (HDAT). London: HP; 2019.
Sneider B, Pristed SG, Correll CU, Nielsen J. Frequency and correlates of antipsychotic polypharmacy among patients with schizophrenia in Denmark: A nation‑wide pharmacoepidemiological study. Eur Neuropsychopharmacol. 2015;25:1669‑76. doi: 10.1016/j.euroneuro.2015.04.027
Cotes RO, Goldsmith DR, Kopelovich SL, Lally CA, Druss BG. Characteristics of Medicaid Recipients Receiving Persistent Antipsychotic Polypharmacy. Community Ment Health J. 2018;54:699‑706. doi: 10.1007/s10597‑017‑0183‑y
Martinho S, Pocas A, Simoes M, Laureano C. Antipsychotic Polypharmacy and High‑Dose Antipsychotics in Involuntary Patients: a Seven‑Year Audit of Discharge Prescriptions in an Acute Care Unit. Psychiatr Q. 2020;92:1‑14. doi: 10.1007/s11126‑020‑09762‑1
Ortiz G, Hollen V, Schacht L. Antipsychotic Medication Prescribing Practices Among Adult Patients Discharged From State Psychiatric Inpatient Hospitals. J Psychiatr Pract. 2016;22:283‑97.doi: 10.1097/PRA.0000000000000163
Lung SL, Lee HM, Chen YH, Chan KW, Chang WC, Hui LM. Prevalence and correlates of antipsychotic polypharmacy in Hong Kong. Asian J Psychiatr. 2018;33:113‑20. doi: 10.1016/j.ajp.2018.03.012
Fontanella CA, Hiance‑Steelesmith DL, Guirgis H, Campo JV. Trends in and Predictors of Long‑Term Antipsychotic Polypharmacy Use Among Ohio Medicaid Patients with Schizophrenia, 2008‑2014. Psychiatr Serv. 2018;69:1015‑20. doi: 10.1176/appi.ps.201800052
Saavedra JE, Stucchi‑Portocarrero S. Polifarmacia psiquiátrica en personas con esquizofrenia en un establecimiento público de salud mental en Lima. Revista de Neuro‑Psiquiatria. 2018;81. doi: 10.20453/rnp.v81i3.3382
Sweileh WM, Odeh JB, Zyoud SH, Sawalha AF, Ihbeasheh MS. Conformance to schizophrenia treatment guidelines in North West‑Bank,
Palestine: focus on antipsychotic dosing and polytherapy. BMC Psychiatry. 2013;13:179. doi: 10.1186/1471‑244x‑13‑179
Gisev N, Bell JS, Chen TF. Factors associated with antipsychotic polypharmacy and high‑dose antipsychotics among individuals receiving compulsory treatment in the community. J Clin Psychopharmacol. 2014;34:307‑12. doi: 10.1097/JCP.0000000000000098
Frias P, Pinto da Costa M. Community psychiatry in Portugal: a critical review. Consortium Psychiatricum. 2020;1:49‑59. doi: 10.17650/2712‑7672‑2020‑1‑1‑49‑59
Harrington M, Lelliott P, Paton C, Okocha C, Duffett R, Sensky T. The results of a multi‑centre audit of the prescribing of antipsychotic drugs for in‑patients in the UK. Psychiatric Bull. 2002;26:414‑8. doi: doi:10.1192/pb.26.11.414
Nunes JS, Figueiredo D, Gil TV, Teixeira AF, Sousa D, Ramos S, et al. Perfiles de pacientes integrados en un servicio comunitario de salud mental. Inf Psiquiátr. 2018;234:39‑46.
Rajan L, Clarke I. Audit of combination and high‑dose antipsychotic treatment in the community. Psychiatrist. 2013;37:302‑7. doi: 10.1192/pb.bp.112.039750
Hung GBK, Cheung HK. A survey of in‑patient and out‑patient antipsychotic prescriptions in Hong Kong. Psychiatric Bull. 2008;32:103‑5.
doi: 10.1192/pb.bp.107.016899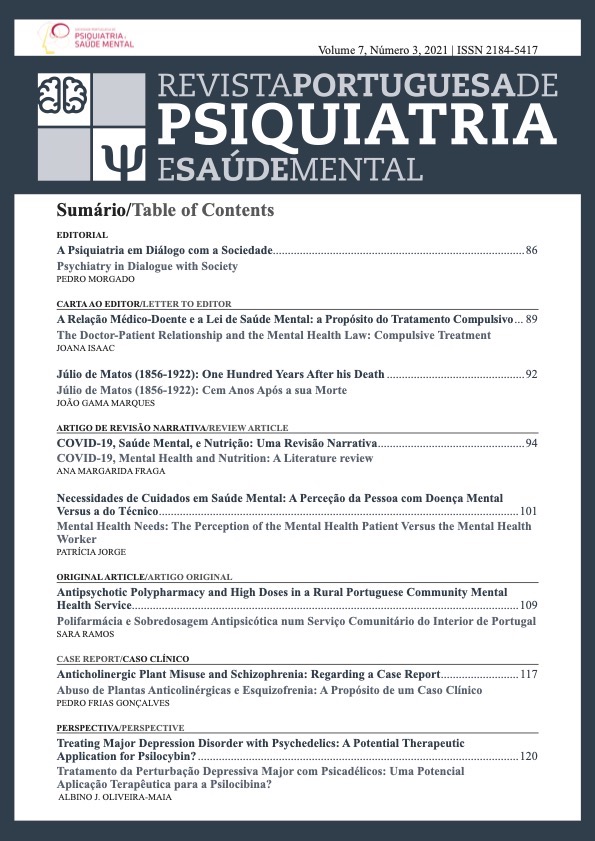 Downloads
Como Citar
Ramos, S., Cruz, D., Jesus, B., Correia, J., Vaz, I., & Mendes, J. (2021). Polifarmácia e Sobredosagem Antipsicótica num Serviço Comunitário do Interior de Portugal. Revista Portuguesa De Psiquiatria E Saúde Mental, 7(3), 109–116. https://doi.org/10.51338/rppsm.2021.v7.i3.163